09.20.2010 32 °F
During our visit we got to chatting with a new friend on the island, photographer Susan Croft, who mentioned that her friend Karen owns a villa called La Petite Maison D'Amour, and that it might be a nice place for us to stay next time we are on island. The housekeeper, Pam, should be there, and she will let us in.
So Susan emails us directions, and they are excellent . . . except that we are directionally challenged and still can't find the house. As we bump along, we spy a man outside doing some gardening, dripping sweat in the mid-morning heat. He is wearing a soaked-through Chocolat t-shirt, and I recognize that he is the beloved Captain Rollins.
I wait in the passenger seat while Angel gets out of the car to see if Rollins might be able to help us with directions. Mangling the pronunciation of the villa name beyond nearly all recognition, we ask Rollins if he knows where La Petite Maison d'Amour is. Never heard of it, he says.
We try pronouncing it again, this time with a little more, er, je ne sais quoi. Still nothing. We recite the directions we've been given and Rollins ponders for a moment.
Peering down the road, Rollins points and asks, "See that road down there, to the left?" Yes, we respond excitedly, thinking we're finally about to be directed to the house. "Ain't a goddamn thing down there!" he laughs heartily. "You got a map?" Again we respond yes, and Angel hands it over for Rollins' inspection. Rollins unfolds it and starts chuckling. "A friend of mine made this map," he says. That's great, we respond. "Not really," he laughs. "It's all bullshit!" He threatens to have a few beers one day and tell the map-maker how he really feels.
"What's the name of the house again?" he asks, studying the apparently useless map. La Petite Maison d'Amour, we respond in an accent that sounds more like Pepe LePew every time we attempt it. "Ain't never heard of that," he says. "Maybe it's down near Karen's house?" Karen! That's it! That's the owner of the house, I explain.
Rollins peers into the car at me for a long moment. "Hmph. She got all the information, but she keepin' silent. Be careful, my man!" he chuckles to Angel. He begins to direct us to Karen's house, then stops midsentence and disappears. A few seconds later, he's back – in a truck. "Follow me," he hollers out the window. "We're going to KAREN'S house!"
With Rollins leading the way, we finally find the house, and it's adorable.
A car is parked in the lot; it must be Pam the housekeeper's. So we knock on a few doors and call her name. Nothing. We call her name some more, but still nothing. We see some laundry hanging outside to dry, and hear someone inside, so we knock on the door once more.
Finally, the front door opens.
It's not Pam.
Instead, a dead ringer for the actor Ron Livingston steps outside, rubbing his eyes. He is barefoot and unshaven and wearing a slept-in t-shirt that reads, "Make Beer, Not Bombs." Clearly this is one bomb he was not expecting.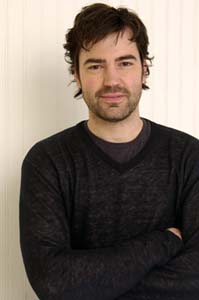 "You're not Pam," I observe shrewdly. Um, no, he responds. "Pam's your housekeeper," I offer helpfully, as though that might explain what the hell we are doing there. He nods. We stare stupidly at each other for a moment, Angel and I tripping over ourselves to explain why we are pounding on the door of his villa at 10:30 in the morning, and him desperately trying to understand how his vacation has suddenly taken such a wrong turn. Amid a flurry of apologies, Angel and I slink away, and our Ron Livingston-look-alike presumably goes home and tells everyone about the crazy couple who tried to break into his villa one morning.
Obviously this day needed to end with some tequila, so for dinner we headed over to a restaurant called Picante, A Caribbean Taquiera, which is also a Caribbean Overachiever. This restaurant could probably get by with serving just passable food, given that it is bright, cheerful, friendly, and not terribly expensive -- and the only Mexican place on the island. But Picante is more than just passable. It is fantastic.
These are their seafood enchiladas. They are rich, creamy, delicious, and extremely filling. Anyone who can eat both enchiladas and the rice & beans is a better, and probably rounder, woman than I.
We finished off the meal with something called "frozen lemon-lime pudding," which was served with a little shaker of cayenne pepper. It was cold, creamy, sweet, and tart, like a cross between sherbet and creme brulee. Hello, lover.